Pet Grooming Services in Dallas

Our talented groomers can give your dog the new 'do' you've been searching for. At Odyssey, you can meet with and request your favorite groomer. Grooming services are available Monday-Saturdays.
We only use all-natural shampoos & conditioners, free of parabens and harsh chemicals.
Rabies, Distemper, & Bordetella vaccines are required for all grooming services.
Please call 972-407-1166 for a quote.
GROOMING FAQ's
Panel only seen by widget owner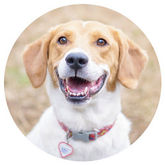 Bath & Brush
Our bath & brush includes the following services: bath, ear cleaning, nail trim, anal gland expression, pad trim, and sanitary trim.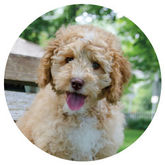 Haircut
We provide breed-specific haircuts. Haircuts include the bath & brush service, plus custom haricut and style.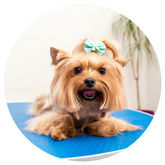 Add-on Services
Teeth Brushing: $5
Nail Grind: $5
Herbal Flea Dip: Small Dog $5, Large Dog $10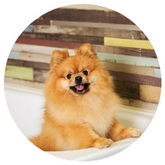 Extra Special Services
Nail Painting Small Dog: $5
Nail Painting Large Dog: $10
Diminishes Stains & Odors: $5
Blueberry Facial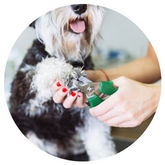 A la Carte
Nail Clip: Small Dog $7, Large Dog $10
Nail Grind: Small Dog $12, Large Dog $15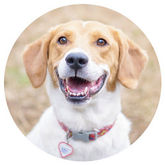 Shedding Treatment
We use all-natural oat protein and aloe Simple Shed Shampoo followed with the Simple Shed Treatment, specially formulated to release loose hair and undercoat while it cleans and conditions. Extra time for brushing is given.

Please note: grooming will remove the bulk of hair that has already left the pet's follicle, but the grooming process further stimulates the coat. Shedding will continue for about 48 hours after grooming and then decrease.

Shedding Treatment $5-$20 in addition to Full-Service Groom depending on the size of the dog and type of hair.
Come visit our pet supply store in Dallas, TX specializing in quality food, treats, and supplies for cats, dogs, fish, and small pets.